Superb view of shorelines (Tango Peninsula) one of the best in North Kyoto in Kansai has prolonged perfect cycling road. There are the three most beautiful views in Japan Amanohashidate, Funaya house of Ine, spot including Kyotango in course and can thoroughly enjoy local local gourmet and fruit sweets, one-day hot spring, too. It is famous as Field of held bicycle race "TANTAN long ride" "Tango Peninsula one lap" (tanichi) every year. We want to go round Tango Peninsula which is said to be sacred place this time in cycling "e-BIKE" with much-talked-about, being electric. Around Tango Peninsula, e-BIKE guided tour, service of e-BIKE rental are satisfying rapidly.
Kyoto by the Sea judging from map
Sightseeing information according to area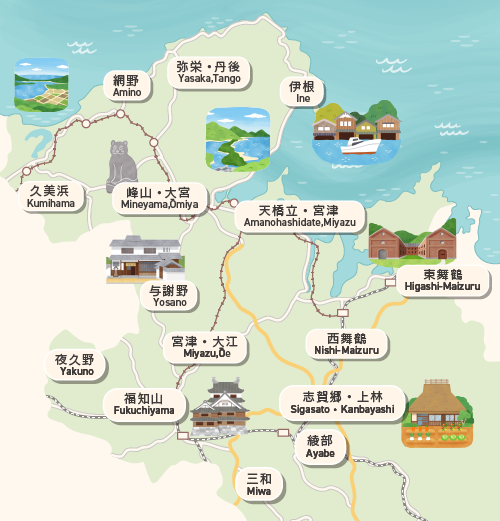 Tourist attraction of each area
We look for from map


Take a "concept tour, where we offer ways that you can explore Kyoto by the Sea. We want to offer deep experiences, ones that make you want to extend your trip to see what secrets lie beyond the next mountain pass, cove or village.